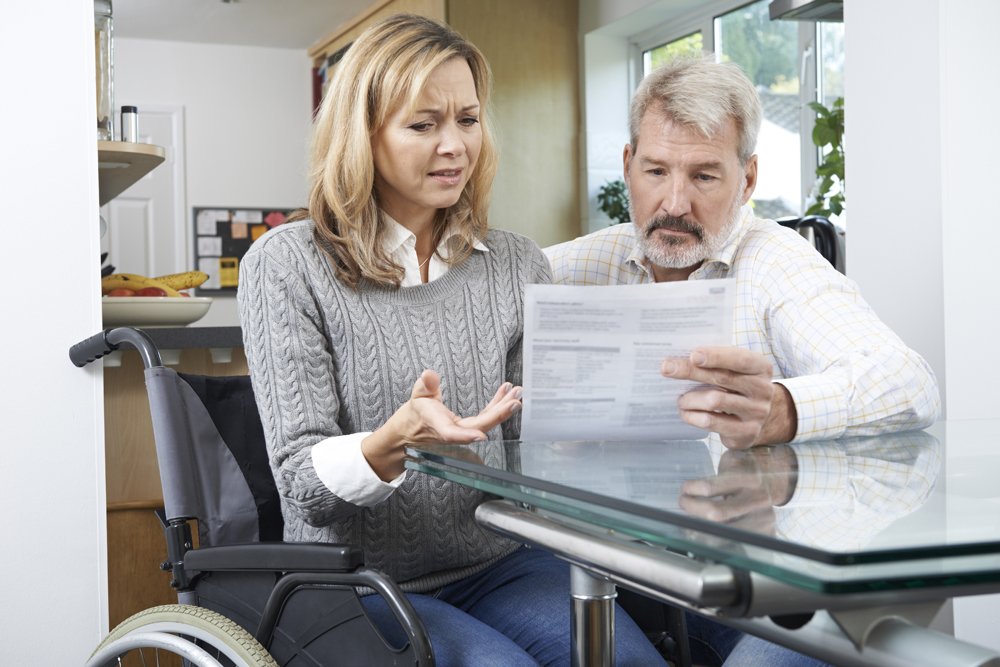 Social Security Disability Insurance (SSDI) is one of the largest federal programs providing benefits to people with disabilities. In fact, at the end of 2017 nearly 8.7 million people were receiving disability benefits. That's an increase of 22 percent from a decade ago.

Still, about two out of every three SSDI claim applications are initially denied. If you've been disabled and are unable to work, understanding how the SSDI system works may make the difference in whether you receive benefits.

SSDI is an insurance program that you pay for, along with retirement benefits, through Social Security withholding on your paycheck. Like your retirement benefits, the amount available to you in the event of disability depends on how much you have paid into the program. It averages $1,197 per month. People with disabilities may earn up to $1,180 per month without losing their benefits, a figure that is adjusted annually.

To qualify as an insured, you must have paid in a base amount for a certain number of quarters (not necessarily consecutive), depending on your age. In addition, you must have a physical or mental condition severe enough to prevent you from performing substantial work of any kind for at least a year.

Benefits begin after five months of disability, but SSDI determinations can take up to two years if a hearing is required, so it's important to apply as soon as you know you're dealing with a significant disability.

Submitting a claim involves five steps, including the Social Security Administration (SSA) application, a work history report (detailing how the disability affects work you may be qualified to do), a daily living questionnaire (assessing your ability to engage in day-to-day activities), the names and addresses of all doctors and healthcare institutions that have treated you for the condition and the dates of treatment, and an authorization for release of information.

The SSA then will make an initial determination without ever meeting or speaking with you. If your claim is denied, you have nothing to lose by appealing, and almost half of SSDI denials are reversed favorably on appeal.

To appeal a decision, you must complete a one-page SSA form called a Request for Reconsideration. The form is included with the SSA's written denial of benefits and must be submitted within 60 days of receipt. The form asks for basic information and includes a section where you may briefly state the reasons you consider the denial unfair. You can attach additional supporting material for the administrators' consideration.

If you still are denied, you may request a hearing before an administrative law judge. This allows your case to be reviewed by a federal administrative law judge who is not affiliated with the SSA. The next step is to appeal to the Social Security National Appeals Council in Washington, D.C. If you still are denied benefits and believe the decision unjust, you may file a lawsuit in federal court.

Attorneys experienced in SSDI can be a great resource for people who are appealing decisions, especially when they reach the hearing stage. A research report issued earlier this year indicates that claimants with legal representation were three times more likely to be allowed benefits than those who did not have legal representation.

Realizing that people applying for disability benefits probably can't afford legal counsel, most attorneys will take these cases on a contingency basis. Federal rules limit how much attorneys can earn on SSDI cases to the lesser of 25 percent of the past-due benefits or $6,000. Your local SSA office can provide a list of qualified attorneys.

If you are unable to obtain SSDI benefits, take heart in knowing that there is additional help available through state and local agencies. You may be able to get money for vocational rehabilitation and job training. You may also qualify for medical and other public assistance programs. At the very least, you can find support for the journey.

By Maureen Kinney, La Crosse Estate Planning Lawyer at Johns, Flaherty & Collins, SC.