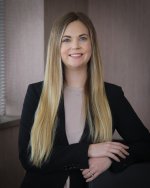 Emily Iverson may be a new associate, but she's not new to the firm. Emily has interned at Johns, Flaherty & Collins for more than a year, bringing her legal knowledge and can-do nature to our team of attorneys. Maybe next she'll bring tacos!
What's your favorite food?
Tacos! I could eat tacos for just about every meal, specifically "street tacos." I am not the main cook at home, so when it is my turn to cook, it is usually tacos. They are so simple, yet so versatile; they can be big, small, spicy or sweet — there is a perfect taco out there for everyone!
Would you rather explore a new planet or the deepest parts of the ocean?
Both would be exciting (and terrifying), but I'd have to choose to explore the deepest parts of the ocean. The ocean accounts for 70 percent of Earth's surface, but only 5 percent has been explored — the rest remains mostly undiscovered and unseen by humans. I can only imagine what else is out there!
What do you like most about being part of the Johns, Flaherty and Collins law firm?
The people I work with are the best! The staff and other attorneys are very friendly and helpful. We really do work as a team and help each other out with anything and everything. Everyone truly cares about one another and takes time out of their day to show it.