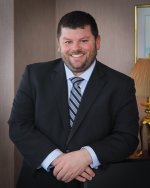 Local attorney David Pierce has become a partner at the Johns, Flaherty & Collins, SC, law firm.
Pierce joined the firm in 2017 after graduating from the University of Wisconsin Law School where he interned with Wisconsin Supreme Court Justice Annette Ziegler and Federal Judge James Peterson of the Western District of Wisconsin. Since joining Johns, Flaherty & Collins, he has focused his practice in criminal defense, landlord-tenant law and civil litigation.
Originally from the Tomah area, Pierce has embraced the Johns, Flaherty & Collins' good neighbors, great lawyers tradition over the past four years, becoming actively involved in the community and volunteering frequently with Mobile Meals of La Crosse and as an election poll worker.