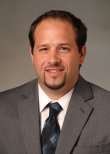 Local attorney Anthony Gingrasso has become a partner in the law firm of Johns, Flaherty & Collins, SC.
Gingrasso joined Johns, Flaherty & Collins in 2014 after practicing law in La Crosse for six years. He graduated from Hamline School of Law in 2008 and concentrates on commercial litigation, family law, estate planning, corporate, real estate and consumer law.
True to the Johns, Flaherty & Collins' good neighbors, great lawyers tradition, Gingrasso has served on the board of directors for the La Crosse Kiwanis Club and Hunger Task Force of La Crosse. He also volunteers with YWCA of La Crosse.
Founded 138 years ago, Johns, Flaherty & Collins is a full-service firm offering a team of 15 attorneys with concentrations in corporate, employment, government relations, health, insurance, estate planning, personal injury, criminal, traffic, bankruptcy and family law. Together, Johns, Flaherty & Collins attorneys are active in more than 75 local and national nonprofit and charitable organizations.