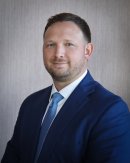 La Crosse attorney James M. Burrows has joined Johns, Flaherty & Collins, SC, becoming a partner in the law firm in September.
The addition of Burrows grows Johns, Flaherty & Collins legal team to 17 attorneys. Burrows concentrates his practice on civil litigation, alternative dispute resolution, business and corporate law and trademark law.
"James brings substantial experience and has prevailed for his clients in some notable cases. He also has a long record of pro bono and community service," said Johns, Flaherty & Collins Managing Partner Brent Smith. "As a good neighbor and great lawyer, he's a natural fit for our team."
A 2004 graduate of Logan High School, Burrows grew up in La Crosse, Wisconsin. He left the area to study economics and mathematics at Marquette University and stayed in Milwaukee to attend Marquette University Law School — graduating magna cum laude with both his bachelor's and law degrees.
For several years, Burrows practiced at a large, Milwaukee-based law firm with additional offices in Wisconsin, Illinois and Colorado. He returned to La Crosse in 2020 before making the move to Johns, Flaherty & Collins. His legal work has landed him among Super Lawyers' Rising Stars for eight years and Best Lawyers' One to Watch in 2022.
Founded 140 years ago, Johns, Flaherty & Collins is a full-service firm offering a team of 17 attorneys with a wide range of concentration areas. Together, Johns, Flaherty & Collins attorneys are active in more than 75 local and national nonprofit and charitable organizations.