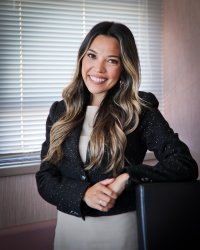 Napela Shim, a recent graduate of Marquette University Law School and new member of the Wisconsin Bar, has joined the team at Johns, Flaherty & Collins, S.C.
While attending law school, Shim served as an editor of the Marquette University Law Review and leader of the Academic Success Program. She also worked as a judicial intern to The Honorable Lynn Adelman, U.S. District Court, law clerk for the O'Leary-Guth Law Office, and legal research assistant, building experience in family law, estate planning, alternative dispute resolution, and business law. At Johns, Flaherty & Collins, she will focus primarily on family law.
Originally from Trempealeau County, Shim relocated to the driftless region to give back to the community she holds dear. With roots in the community — her father being a farmer and her mother being a school nurse — she strongly connects to the values intrinsic to the local population.
"Napela's experience and academic credentials are solid, but what truly stands out is her commitment to community and her strong values of hard work and compassion," said Brent Smith, the firm's managing partner. "We're confident in her ability to serve our clients effectively and to continue learning from the team here at Johns, Flaherty & Collins."