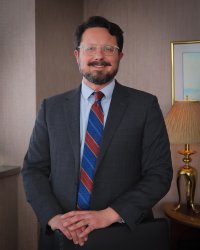 La Crosse attorney Justin W. Peterson became a partner this month at the Johns, Flaherty & Collins law firm. Peterson has been practicing law for 12 years, focusing on business, employment, estate planning, litigation and real estate law.
"Johns, Flaherty & Collins is a no-nonsense, practical law firm that produces great outcomes for its clients at a reasonable cost. It's a good fit for me," said Peterson. "I'll also enjoy the opportunity to collaborate with other experienced lawyers across a range of practice areas."
Peterson litigates business, real estate, probate and employment law disputes and has significant experience in all types of civil litigation, from straightforward contract disputes to complex class actions. He uses that litigation experience to draft stronger estate plans, deeds, partnership agreements and other legal documents for his clients so they can avoid litigation from the start.
Before entering private practice in 2009, Peterson worked as in-house counsel for a major national retailer, managing cases involving the Americans with Disabilities Act (ADA), the Family and Medical Leave Act (FMLA), the Age Discrimination in Employment Act (ADEA), worker's compensation, unemployment insurance, and other employment laws.
He has a special interest in the complex area of real estate law and has litigated numerous cases involving adverse possession, partition, foreclosure, easement disputes and boundary disputes. Peterson also devotes a significant portion of his practice to litigating probate matters, including will and trust disputes. He has also successfully argued cases before the appellate courts in Wisconsin and Minnesota.
Peterson earned his law degree at William Mitchell College of Law in St. Paul, Minnesota, and holds a master's degree in German from Middlebury College in Vermont. He's taught German at Viterbo University and at First Lutheran School where he serves on its board of education.
A frequent traveler to Europe, he also speaks Czech.
# # #