Here's what you need to know before you say "I do"
Bouquets and bows. Veils and vows. Heartfelt toasts, tears and wishes for many happy years. Wedding season is nearly upon us in Wisconsin, and although the occasion seems all about love, it's about the law too.
Yes, there are legal requirements for marriage in the state of Wisconsin. And while you may feel less sure about the legalities than saying "I do," our legal experts have your back. Here's what you need to know about the legal requirements for marriage in Wisconsin.
Wisconsin marriage laws
Before you begin your life together, it's good to know and understand the legalities around tying the knot in the badger state. Getting married in Wisconsin comes with the following legal responsibilities and requirements.
You must obtain a marriage license from the county clerk where one or both partners reside.
You must complete the marriage license application at least a week before the wedding but not more than 30 days before the nuptials.
You need to bring several items with you to provide to the county clerk's office:
Your social security numbers.
A valid photo ID for each partner, such as a driver's license, passport or military ID.
Your birth certificates.
Proof of residency, such as a utility bill, bank statement, lease agreement or your driver's license.
The date and place of the scheduled wedding.
The name, address and phone number of the wedding officiant.
The marriage license fee. This varies by county but typically costs about $100. In La Crosse, for example, the marriage license fee is $90. Checks may not be accepted (inquire at your local county clerk's office), and there may be an additional fee for credit or debit cards if your county clerk's office accepts those.
Neither a physical exam nor a blood test is required for marriage in Wisconsin. Both applicants are generally required to be at least 18 years of age. With parental or legal guardian consent, however, individuals aged 16 or 17 can marry. That consent must be written and notarized.
The marriage license should be ready to be picked up a week after the date you applied for it, and either partner can pick up the license with their photo ID. In some cases, the waiting period can be waived for an additional cost.
Your marriage license expires 30 days after it is issued, so your marriage must occur during that time.
Special situations
Getting married in Wisconsin can require a little more effort in special situations.
For example, if this is a second or subsequent marriage for either partner or both, you'll be required to provide a copy of the paperwork. That may include a certified divorce certificate, the legal annulment, the final judgment of divorce or a certified death certificate. It's also important to note that if you've gone through a divorce, Wisconsin requires you to wait six months after the divorce is final before obtaining a new marriage certificate.
If any of your documents are in a language other than English, you must provide a certified, notarized translation attached to the document. In addition, both applicants for the marriage license must be able to read and speak English. If not, the applicants must provide a translator. The applicants may not translate for each other.
Understand the law and marriage in Wisconsin
When it's time to get married, at least two competent adults must witness the ceremony and declarations that take place with the wedding officiant. That wedding officiant may be a member of the clergy, a judge, a court commissioner or an eligible religious appointee. When the ceremony is completed, the wedding officiant must file your marriage certificate with the county.
That's an overview of what you need to know about getting married in Wisconsin. Requirements may differ from county to county, so keep in mind you'll need to verify requirements where you live and will be married.
With the legal worries out of the way, it's time to get hitched. Here's to your happily ever after!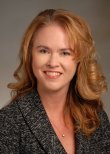 By Sonja Davig, a Johns, Flaherty & Collins, SC, family law attorney in Holmen. For legal help with family matters, call her at 608-526-9320.