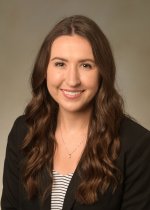 Katelyn Doyle has joined the Johns, Flaherty & Collins, SC, law firm as an associate attorney. Doyle recently graduated from the University of Wisconsin Law School in Madison where she earned her juris doctor degree. She will concentrate her practice on estate planning, real estate and business law.
Doyle has worked in the legal industry since 2015, including clerking at Johns, Flaherty & Collins last year. In addition to her legal work, Doyle has served as senior managing editor of the Wisconsin International Law Journal and editorial assistant for the Journal of Human Resources. She also participated in the Western District of Wisconsin Judicial Internship.
A La Crosse native, Doyle is looking forward to returning to the area and giving back to the community that she said helped raise her.
"La Crosse is a vibrant community where residents are able to form meaningful connections with their neighbors and where leaders are dedicated to continuing to provide services and create programs that strengthen and enrich the community," she said. "Johns, Flaherty & Collins is a leading example of this dedication to serving the community, both professionally and through its membership in nonprofit and charitable organizations."