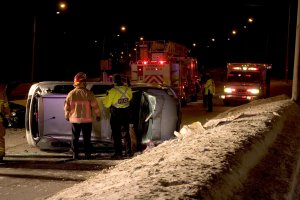 Mother Nature served up a reason to reconsider that umbrella policy on your auto insurance. Monday's snow resulted in plenty of slipping, sliding and fender benders, marking the beginning of a dangerous driving season.
While we certainly hope no one gets hurt out there, statistics show us it can and will happen. The Wisconsin Department of Transportation reports that 39,370 people were injured in auto crashes during 2012 (year of the most recent report), and sadly, another 601 were killed.
That's often the time—after an accident occurs—drivers realize that even though they carry the insurance coverage required by law, it isn't enough.
Right now, Wisconsin law requires drivers to carry at least $25,000 insurance for the injury or death of one person ($50,000 for more than one). But if a crash requires any X-rays, MRIs or other medical care or if the injured person misses any work, you can quickly be looking at much more than $25,000. Oftentimes, damages from neck and back injuries can run $30,000 to $40,000 even when the injured person wasn't out of work for a long time. If an accident results in a hospital stay of any length, damages could quickly climb toward $100,000.
The solution on the financial side is an umbrella policy. Umbrella coverage begins where your basic policy ends. Policies are available in a variety of limits; $1 million and $5 million policies are common. They are especially beneficial for people with substantial assets who may be more vulnerable to lawsuits and expensive judgments.
Umbrella policies are surprisingly affordable. On a basic insurance policy with $25,000 coverage for injuries, an umbrella policy of $1 million can cost just a fraction of the basic premium.
Many insurance agents will offer umbrella coverage to clients, but if yours doesn't, it's worth taking the initiative to explore the option and get a quote.


By Brent Smith, Partner, Johns, Flaherty & Collins. For a personal injury lawyer in La Crosse, call him at 608-784-5678.