Understanding estate planning in Wisconsin
Taking care of our loved ones, or planning to even after we're gone, can be a rewarding endeavor that offers lasting peace of mind. But what happens if you don't have a plan in place?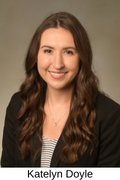 "Most of us have preferences related to decision making if we become incapacitated and preferences related to what happens to our assets upon our deaths. Estate planning can offer comfort when it comes to knowing we've planned both for our own well-being and for the well-being of our loved ones," explained estate planning attorney Katelyn Doyle. "An estate plan can consist of several legal documents, including wills, trusts, powers of attorney and more. These documents reflect your wishes regarding the management of your finances, the making of your healthcare decisions, and the distribution of your assets upon death."
The failure to plan may result in Wisconsin state law governing the distribution of your assets. This, in turn, might mean your wishes will not be carried out.
"Life is complicated. Relationships are complex. Often, clients prefer their assets go to someone other than what the law assumes," Doyle said. "Many clients desire to have their estate handled differently than the default. Having the proper documentation in place will ensure that happens."
Intestate succession: when there is no will to reference
So what happens when you don't have a will or other estate planning documents in place? In Wisconsin, assets that would have passed through your will are distributed to the closest relatives under what are known as "intestate succession" laws. Under these laws, the distribution of assets depends on which close relatives you have when you pass away. For example:
If you have children but not a spouse, your assets would go to your children.
If you have a spouse but no children, your spouse would inherit your assets.
If you have a spouse and children — who are all descendants of your spouse — your spouse would inherit everything.
If you have a spouse and at least one child who is not descended from that spouse, your spouse inherits half of your individual property, and children inherit your share of the marital property plus half of your individual property (individual property is generally acquired before marriage or received by gift or inheritance).
If you have parents but no spouse or children, your parents would inherit your assets.
If you have siblings but no spouse, children or parents, your assets go to your siblings and the children of any deceased siblings.
If you pass on without a will and have no family, your property may go to the state. However, this situation is rare, as Wisconsin law is written with the intent of distributing your property to your relatives, even if they are distant.
In Wisconsin, for children to receive an inheritance under intestate succession laws, the state must consider them your legal children. As families are often complex, this can lead to challenges at times. For example, foster children, grandchildren, stepchildren, children conceived by you but born after your death and children born outside of marriage may not be recognized as your legal children. Therefore, they may not receive the inheritance you would like them to have. That is, unless your estate planning addresses those wishes.
Many assets will not be affected by intestate succession laws, including property in a living trust; life insurance death benefits; IRAs, 401(k)s and other retirement monies; items in payable-on-death accounts; real estate subject to transfer-on-death deeds; and property held as joint tenancy or survivorship marital property.
Experts say probate is another matter to consider when thinking about estate planning. "Many clients would prefer that their loved ones avoid probate for many reasons, not least of which is that the burden of probate comes when many people are mourning a great loss," said Doyle. "With estate planning, you can minimize the challenges your loved ones will have to deal with when you're gone and feel confident that your assets will be distributed in alignment with your wishes."
Other potential outcomes for your estate
Wisconsin law is comprehensive and even has intestacy laws in place related to:
Half relatives (who inherit as if they are whole).
Posthumous relatives (who inherit as if born while you were living, as long as they live 120 hours).
Survivorship (the individual must live 120 hours longer than you);
Your unlawful death (no disbursement to the individual who unlawfully and intentionally killed you).
Immigration status (relatives will receive inheritance whether or not they are U.S. citizens or legally in the U.S., although special considerations apply related to real estate).
Advancements (the value of the property given when you were alive is subtracted from their share if you have it in writing, or the relative submits this in writing).
"Simply put, legal consultation on estate planning can help you gain clarity on Wisconsin laws related to your assets," said Doyle. "It also gives you valuable opportunity to think through the complex eventualities and your preferences and record them legally so that the law will recognize them as binding."
Is it time to begin your estate planning?
The laws around estates or assets in Wisconsin can be challenging to understand and often fall short of intuiting our wishes. Working with an estate planning attorney is the best way to safeguard your intentions. It's never too early to plan. Contact Johns, Flaherty & Collins to get started today on your estate planning in La Crosse, Holmen and surrounding areas in Wisconsin.