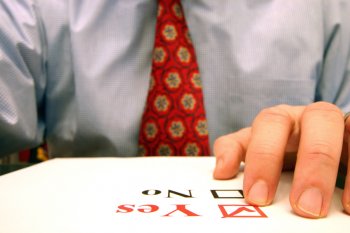 Chances are at some point in your life, you'll need a lawyer. It is the nature of the complex world we live in that sometimes we need the guidance of an attorney to protect our interests. For some, that time comes when buying or selling property, signing a contract or making a will. For others a lawyer might be needed after they've been injured at work, seek a divorce or when accused of a crime. Whatever the reason, you want to make sure you get the caliber of representation you deserve.
Follow these five tips to choose a lawyer that's right for you:
Find a lawyer whose specialty matches your needs. If you're looking for a criminal defense lawyer, you won't want an estate lawyer, even if that person is a friend. It is worth your while to find someone who not only practices the kind of law you need, but is passionate about it.
Check references. A good lawyer will have a good reputation. You can start by asking friends or trusted associates, and deepen your search by checking references. Research their reputation through associations and oversight organizations. You may also want to consult the Martindale-Hubbell Law Directory, found online at Martindale.com and at libraries. You'll find basic profile data on nearly every lawyer in the United States and Canada as well as peer reviews.
Tour the lawyer's law office, interview them and trust your gut. How does the attorney make you feel? What does their office say about them? Do they communicate in terms you can understand? You want an expert advisor you are comfortable with, who doesn't pressure you into making decisions.
Compare the fees of your prospective lawyer with others in your area with the specialization you seek. An experienced attorney will likely cost more than one fresh from college, but you will want to make sure the fees are comparable with that taken into consideration. Remember that a higher fee doesn't always equate with a more qualified lawyer. Likewise, rock-bottom pricing can point to issues as well.
Beware attorneys who promise certain outcomes. No lawyer will know the merits of a case after meeting with them a single time. Be suspicious of anyone who promises a win. An honest lawyer will be realistic.
When the time comes to choose a lawyer, these tips will help ensure you find someone who can help you through some of life's most complex events.